How Loyalty Programs Should Be Evolving to Better Delight Customers
The Evolution of Loyalty
Today's 'always connected' customers have become much more savvy and discriminating. Unsurprisingly, they have lost their appetite for loyalty programs that deliver irrelevant offers and rewards via the same-old tired propositions and experiences. Although the retail industry has generally graduated to a 'loyalty 2.0' level of more-personalized communications, coupons, and channels based on data and segmentation science, the clear majority of loyalty programs are simply not keeping pace with changed shopper needs and expectations.
Customers now have much higher expectations of rewards programs around the use of their gift of personal information – ever-more valuable benefits and "hyper-relevant" experiences where and when the customer wants it. Hence, the next (and long overdue) evolution of loyalty must no longer limit its focus to earning and redeeming, but also on a continual and active engagement with customers. The 'program' must become a 'conversation' that creates interactions throughout the whole customer journey to better demonstrate the retailer's loyalty to the customer, and thereby win incremental loyalty in return.
Customer Needs and Expectations Have Raised the Bar
Customers expect their experience with a retailer to be fully integrated and seamless across touch points.  Whether they are searching for product information, checking reward status, making an online purchase or browsing in the store, they want to be recognized and their needs understood and reflected in retailer offerings and the personalized service provided. Their lives are so busy, they are looking for retailers who make shopping easier.  Convenience and ease are key – whether it's making relevant suggestions and offers based on past purchases, making access to the rewards program fully digital, or offering an app that provides information, offers and payment options at their fingertips.
The following graphic illustrates how some of these expectations are playing out: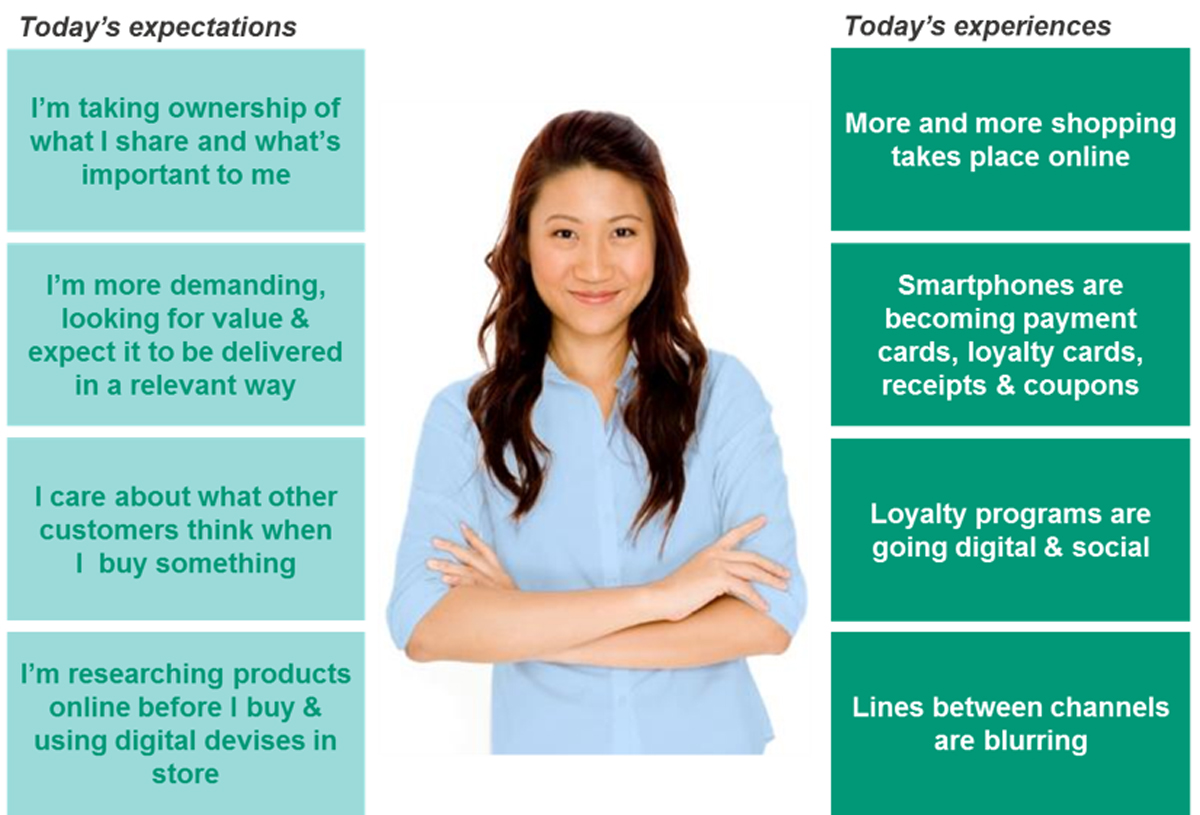 What this means for Loyalty Programs today and tomorrow
The importance of a loyalty approach over a loyalty 'program'
We live in an "attention economy" – Customers are attracted to offerings and retailers that win their attention in an otherwise cluttered and confusing multichannel world. Retail growth (and indeed, retail survival in a non-growth market) comes down to who best creates meaningful attention. It's almost as if there are two choices that retailers face: win attention by being cheaper or by being more personally relevant (for Customers, this can be translated as more service, selection, convenience, people warmth, etc).
Arguably, in today's multichannel, post-recession world, the decision is binary, and any middle position is short lived and profit starved. Being cheaper means competing in a continual race to the bottom against every type of price competitor and disruptor. Being more relevant means understanding Customers better than others do, and from this delivering an experience that Customers personally value. And, it means being more loyal to Customers than others are. In this way, it's a loyalty approach that powers the growth strategy.
To earn loyalty rather than be given loyalty – to think of loyalty as a relationship earned through ever-relevant shopping experiences, offers, and conversations – is an important and powerful distinction with significant implications for any organisation in the multichannel world.  One view puts the responsibility to change on the organization itself, while the other presumes that the Customer owns the change journey (from less loyal to more so). Only the former approach has been proven to drive sustainable growth, measured in organic like-for-like terms.
Earning more loyalty means earning more sales – one more item, one more visit, one more customer, and so on.
The essential question is, therefore, around which type of loyalty program – points, discounts, surprise & delight, experiences, etc – will best enable the practice of a loyalty approach? In our experience, the answer depends on how willing the business is to use data and insights to truly change the experience for its Customers.
Loyalty Trends and Best Practices
Customers have redefined what "relevance" means to them, rewarding retailers who deliver value and experiences that best meet both transactional and emotional needs. Clearly, today's customers are saying that points and discounts alone are insufficient. The most successful and appreciated loyalty propositions in practice today are responding to the following customer needs in particular:
Sharing – Socially enabled and connected, local, advocacy and reviews, C2C and C2B. Customers expect propositions that listen more than talk, and marketing communications that speak with / on behalf of (not to) them. Think of propositions that help create communities, enable influence, ideas and reviews, and which enable customers to gift their rewards.
Digital – Seamless omni-channel experiences, mobile enablers and connections. Customers expect programs that recognize them with or without a card, and offers / status whenever and wherever they want. Integrate payment and 'discover' options.
Experiential– Experiences right now that are entertaining, fun, interactive, disruptive (the concept of gamification fits here), and priceless. Customers expect rewards for activities above just dollars spent and authentic 'thank you' messaging. Think of experiences that gratify instantly, are priceless and disruptive, personalizing and human.
Control – Of the offer, of time, of promotions and privileges. Customers expect transparency, simplicity, and curated choice. Think of experiences that are easier, and eliminate hoops.
Loyalty Programs are already evolving
Technology has driven fundamental changes in customer behavior and how they shop. Today, customers search for products, seek thoughts and opinions of other customers and increasingly order and pay for items online, in-store and via apps, comment on social media and even play games to earn virtual rewards. Thus, retailers have increased opportunities to listen to customers and connect with them to provide value and help meet their needs at every touch point.  For example, we can recognize and thank our loyal customers and drive engagement by providing advice on wine pairings, for example, or thanking them for posting a review or surprising them with a personalized offer while they are shopping online.  By tracking and rewarding interactions beyond spend, we obtain a deeper customer understanding and build a stronger relationship with them. It's about creating lasting connections through relevant rewards and experiences where and when customers want them.
The evolution is already underway, and the 'table stakes' have changed, as illustrated in this chart:
Foundational principles for developing a brilliant loyalty strategy
Below are principles to follow when developing a successful loyalty strategy.  Strong loyalty programs are: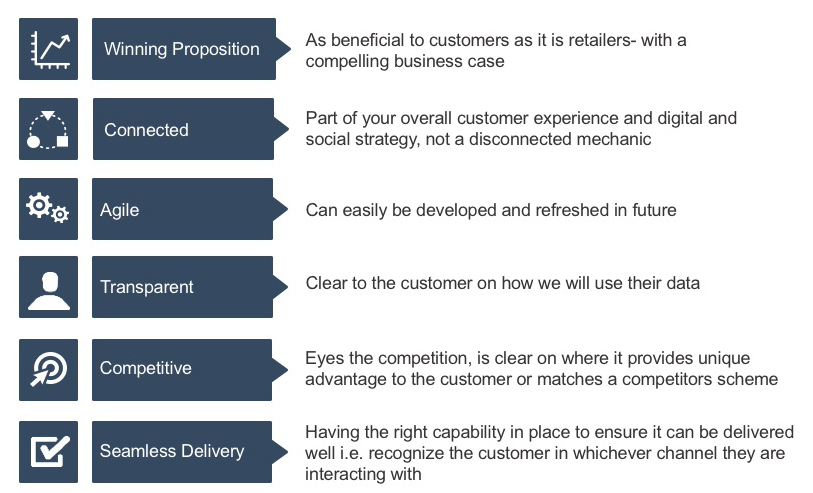 What to Avoid
Although loyalty programs have been around a long time, many of them still have basic limitations.
For some consumers the rewards are not worth the effort to participate in the program, for others the requirements of participating are an inconvenience such as showing your card to earn points or getting paper vs. digital rewards.   If the proposition is too complex, busy customers will just opt out.  If reward thresholds are too high, it may take too long to earn a reward so customers may just stop showing their card.
Below are loyalty program pitfalls to avoid when designing a program:
Low relevance for customers
Low perception of generosity
Barriers across the customer experience
Reward/tier thresholds that are too high
Developing a complex proposition which is difficult to understand
Treating the program just as a promotional tool
Having partners lack appeal or relevance
Requiring too much effort for the customer to participate
A Look to the Future
Programs that are designed today should consider emerging trends to be relevant for the future.  Although no one can predict the future, here are our thoughts on what to expect:
"Digital" and "omni-channel" are outdated terms
Both have been buzzwords in recent years, and with good reason. Customers own an average of 3.4 devices, and think of themselves, of course, as one person who just naturally integrates several modes of connection. Retailers and brands must recognize and interact with their customers across all channels cohesively; 53% of customers expect this right now, an expectation that grows exponentially every digital moment.
Accordingly, a separate 'digital' or 'omni-channel' strategy is meaningless
Both are elements of a larger customer strategy, or as simple communication channels / executions within the loyalty or marketing strategy. Companies who have separate initiatives or departments who focus on digital or omni-channel are already almost hopelessly behind the curve. If your digital marketing strategy is different than your brand marketing strategy or than your Customer Strategy, you are in big trouble.
Also becoming outdated is the term "points"
Points are becoming increasingly implicit within loyalty programs. Programs' messages are focusing more on the actions and rewards, rather than the point process within the program. The best practices lately are really recognition and engagement programs that use 'softer' or implicit points within a loyalty proposition. As members make purchases within these type of programs, they receive more interactions, benefits, offers, and insider access, and those are the desired payoffs.
Companies are targeting generation Z as they come more into the picture
Gen Z is coming into the spending picture more now at ages 12-17. The interesting thing about this age group is that they do not know a world without technology, mobile, and social. They are more tech-savvy and tech-demanding than the other age groups. This will advance the mobile trends we are already seeing in recent years, and cause companies to pay even closer attention to their behaviors as they define their shopping identities.
Customers want companies to demonstrate a commitment to doing good
Although not typically viewed as a component of loyalty programs, consumers are increasingly aware of companies' corporate social responsibility and it influences their opinions of brands. Corporate responsibility and philanthropy are nothing new, but it is now being incorporated into loyalty programs. Programs are including their charitable actions in their messaging, and more importantly to directly impact customers, are offering charitable elements for customers to participate in. An example of this is having donations to a relevant cause as a reward option for members to choose.
Customers co-create their own experiences
Perhaps the most exciting and interesting concept is that customers appreciate a role in creating their own experiences.  Tesco's BuyaPowa proposition puts customers in the role of pricing managers, as the more wine they encourage their friends to buy, the cheaper the price per bottle for everyone. Walmart enlists customers to be new product developers and then category managers, driving innovation in new products. Canadian Tire's 'Tested' panel are de facto quality control experts. Even the constitution of Iceland was rewritten by its citizens, who contributed their thoughts for a better society through a social media campaign.
Measuring the Success of Loyalty Programs
There are many ways to measure loyalty programs.  The diagnostic measures below evaluate how well the program is being executed – do we have awareness, appeal, and participation?  Is the program driving engagement and increased loyalty among members?
How to measure the impact of loyalty programs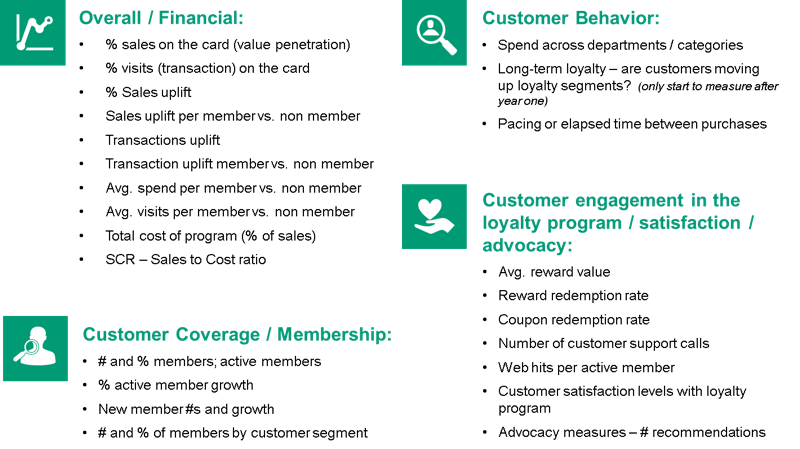 Ultimately, however, the best loyalty programs should be measured by whether they are growing the number of strategic (e.g. loyal) customers and the spend of those customers.  Loyalty programs that are part of an overall loyalty approach that puts the customer first drive business growth.  These programs fully integrate the loyalty program as part of the overall marketing strategy, leverage data from the program to enhance the shopping experience across all touch points (ex. Assortment, pricing, promotion, etc.) and build strong relationships with their customers by personalizing communications, offers, and experiences.
Loyalty Programs that are part of an overall loyalty approach that puts the consumer first drive business growth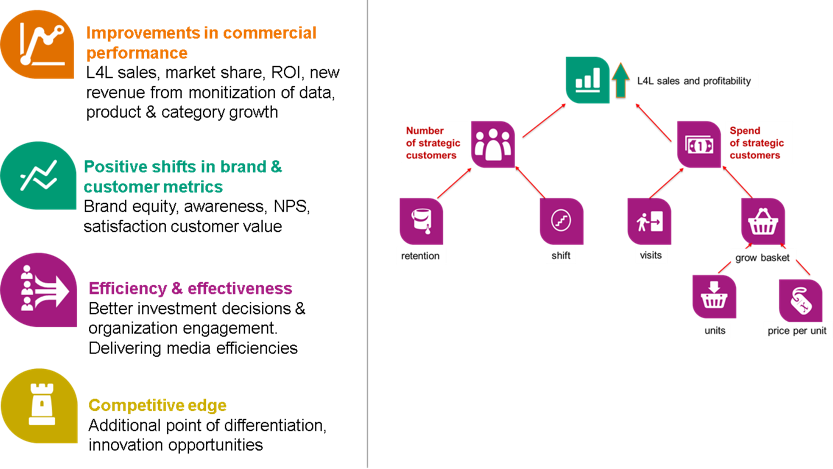 A new model to measure "loyalty" of a customer: S.T.E.P
The definition of loyalty or of customer value itself can be broad and complex.  We suggest a simple concept called STEP (Spend, Talk, Engage, Prefer) which recognises that this goes beyond spend to include the level of engagement that customers have across customer touch-points and the degree to which customers are prepared to be open advocates of your brand. These all add up to an overall preference for the brand i.e. customers are excited to buy from you and will seek you out.
STEP provides a more natural definition of loyalty that more closely reflects the emotional aspects of the concept but in a way that is still measurable at scale across a membership base. It also allows retailers to deconstruct the 'next level down' drivers behind metrics such as Net Promoter Score to provide a set of simple early warning or lead indicators to what can be a lagging metric.
STEP is also a concept to help think about how to impact Loyalty. We believe that driving loyalty over time is an incremental process achieved through a series of positive personalised 'nudges' or experiences that encourage customers to spend, talk or engage more with the brand. We know that by maximising special moments in this way and minimising or quickly addressing detracting moments that we can build deep and lasting preference.
The first three are behavioral – spend, talk, and engage. Prefer is the qualitative measure of how perceptions are changing over time. Our recommendation is to use STEP to more accurately quantify and track loyalty over time. Strive to collect Talk, Engage, and Prefer data in addition to Spend and link all data to each person.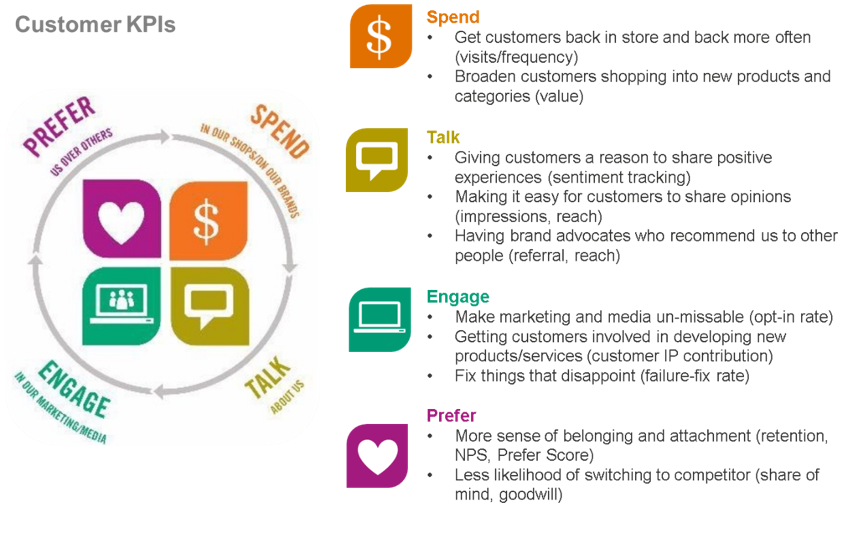 Evolving a 21st century Loyalty Conversation to Delight Customers
The 4 pillars of delighting Customers
Best on our global experiences, these are the program attributes that help delight customers and bring the retailer's brand to life, along with some examples just to start our thinking:
EASY
Real time access to rewards program in store, via app, online
Pay via smartphone app
Free delivery, click and collect
Scan at shelf to get additional product information or recipes
PERSONALIZED
Recommendations based on previous purchases, like "My Usuals"
Suggestions of other products that I might like
Custom savings offers based on what I buy – "reward me"
SOCIAL
Capture customer reviews and suggestions
Allow them to share special offers with friends
Recruit your best customers to attend special preview events to serve as advocates
INSPIRATIONAL AND FUN
Feature content and offers linked to seasons, events, travel destinations
Surprise and Delight offers and content
Partner with family entertainment providers and events
Reward with meal planning advisors and kits
Design for success following best practices
Hyper-personalized offers, communications and news
Elements of surprise and delight
Experiential rewards – what money can't buy
Engage partners to invest in growing their business, too
Be digital, or be gone – seamless delivery in every channel
Reward engagement beyond spend (e.g. STEP, sharing, co-creating)
Build emotional connections
Ensure the Customer is always in control
Follow best practices to put the customer first and in control:
Be loyal to customers, upfront, and transparent
Programs need to be easy to participate in and understand
Listen and talk to customers across channels and formats
Provide more ways to earn and burn rewards
Understand and react to customers more quickly than before
More relevant communications, rewards and offers across all channel
Build and encourage brand advocacy
Enable customers' choice and control in how they interact with you, every transaction
Integrate program across the business – loyalty crosses silos
Customer loyalty is complex.  Retailers have to uniquely understand the motivations of customers and how the web of brands, channels, propositions and offers need to be optimised to focus on the elements of the experience that appeal most to customers.  Our view is that loyalty is no longer just a marketing process designed to deliver incremental trade drivers and engagement programs; sustained loyalty is the outcome of aligning all parts of a business to deliver the right customer experience with all the tools available.  The brands and retailers that shift the focus to operating in a way that demonstrates how their business is loyal to customers will gain the advantage. Customers will see and feel the different experience, they will value it and they will trust these brands and retailers more resulting in business growth.
The Peak Loyalty approach to loyalty
Our client experience in evaluating, designing and launching CRM programs is extensive. We have created solutions to help our clients build loyalty/CRM strategies which both engage customers directly and serve as a platform for transforming the customer experience to grow loyalty.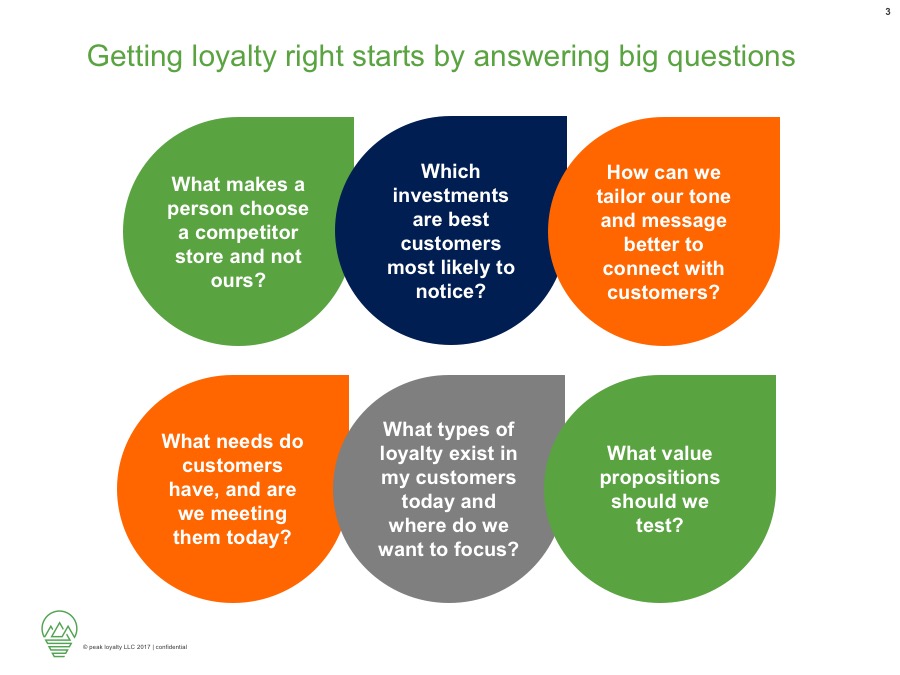 The Assessment Framework
We have learned that a three-phase framework, starting with the questions listed above, and like that illustrated below, will bring the appropriate rigor to the difficult challenges of designing and executing a 21st century loyalty proposition.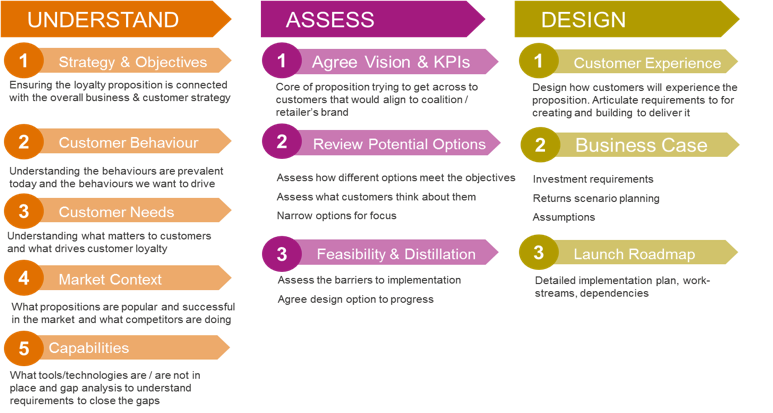 We are eager to explore this framework together with you, and to co-create the optimal program for your customers and for your business.